Film du mois de juin 2013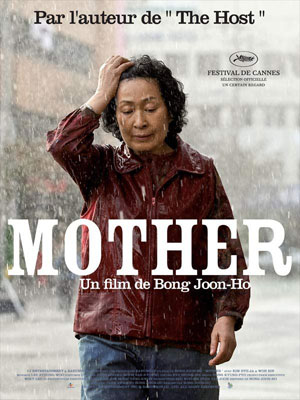 Films découverts ou redécouverts
Habemus papam
de Nanni Moretti : l'idée était intéressante mais il manque au film un souffle ou bien je suis passée à côté. Reste Piccoli magnifique ! 6/10
Mother
de Bong Joon-Ho 10/10 Chef d'oeuvre !
Achille et la tortue
de Takeshi Kitano : une réflexion douce amère, le plus souvent amère sur le processus de création, "l'innocence artistique" et la spontanéité contrariées. Très belle découverte. 7.5/10
Le nouveau monde
de Terrence Mallick. Déçue après la claque de The tree of life. L'histoire s'embourbe un peu incite au décrochage. 6.5/10
Yi Yi
d'Edward Yang. Une merveille dans un solide écrin. Des fragments d'existences, un kaléidoscope humain touchant et enchanteur. 10/10
Une séparation
de Hasgar Faradi. Brillant ! 8/10.
Blondie
Johnson de Ray Enright 5.5/10
L'attentat
de Ziad Doueiri 8/10
Un barrage contre le pacifique
de Rithy Panh. 1.5/10
Vide et désincarné à des années lumières du livre de Duras.
Sparrows
de William Beaudine 8/10
Un conte cruel tout à fait recommandable.
La tisseuse
de Wang Quan'an 6/10
L'inconnu du lac
d'Alain Guiraudie 7.5/10
Origine
(2006) deKeiichi Sugiyama. 4.5/10
Melancholia
de Lars Von Trier 6.5/10
Shokuzai : Celles qui voulaient oublier.
de Kiyoshi Kurosawa avec Kyôko Koizumi, Sakura Ando. 6.5/10
Ca commençait plutôt bien mais le passage de la poupée m'a paru interminable. Au final un avis un peu mitigé parce qu'ily a quand même de bonnes choses.
Tampopo
(1985) de Juzo Itami. 7.5/10
Jubilatoire !
Le secret des poignards volants
de De Zhang Yimou, 2004 avec Zhang Ziyi, Andy Lau, Takeshi Keneshiro. 5.5/10
Pèche par excès d'esthétisme et un scénario trop superficiel. Reste quand même quelques scènes à couper le souffle.
Films revus
Quelle était verte ma vallée
de John Ford 10/10
Ford comme un poisson dans l'eau quand il s'agit d'explorer le thème de la communauté.